The right tires not only help contribute to your vehicle's handling and performance, but can also impact fuel efficiency and safety as well. If your tires are showing signs of wear, you can get exact replacements for the original tires at a competitive price at Maplewood Toyota Service Center.
Why Buy Tires at Maplewood Toyota
Competitively priced with a price match guarantee
Free tire rotations for the life of the tires
Two years free road-hazard (Some special order tires excluded)
Tires matched perfectly to your Toyota
Tires in stock for most all models
Why Rotate Tires
With each turn of the steering wheel, pressure is brought to bear on the front tires. Resistance causes friction, which in turn produces heat. The results? The front tires wear quicker than the rear tires. Because of this, it is necessary to rotate your tires front-to-rear several times during their life cycle to both equalize tread wear and to maximize the life of your tires.
Front tires take all the abuse on the front wheel drive vehicles, acceleration and turning. The rear tires are just along for the ride.
The reason you want to rotate your tires is to allow the rear tires to smooth out on the pulling axles, making for a quieter ride, and moving the front to the rear makes the tires last longer. Rear tires carry a lot less load.
Front tires carry over 60% of the car's load. Not only do they steer the car, they are also responsible for putting the power of the engine to the road.
Front tires do 80% of the braking.
Our factory trained and certified Toyota technicians can inspect your tires for correct wear, schedule rotation and recommend the exact tire to fit your vehicle's performance and suspension. You may also want to check your tire tread on your own.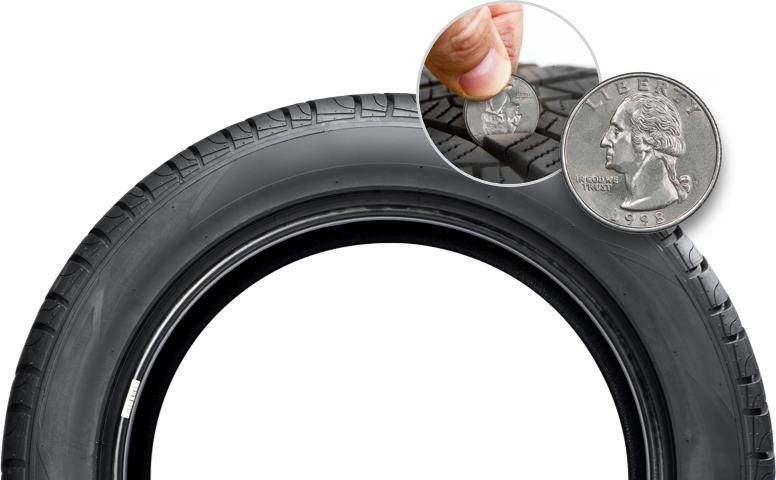 How to Check Your Tread
Find the grooves that go around your tire. Using a quarter, turn Washington's head upside down and insert it headfirst into a groove. If you can see the top of his head, you should get new tires.
Keep Your Toyota a Toyota
Let Maplewood Toyota help Keep your Toyota a Toyota by replacing your worn tires. You can rest assured that your tires will be mounted, balanced and inflated to match your Toyota vehicle's specifications. In addition, when you purchase tires from Maplewood Toyota, a free, two-year Road Hazard Coverage (on most tires) is included.
Ask a Tire Service Question
Service Hours
Monday

7:00AM-10:00PM

Tuesday

7:00AM-10:00PM

Wednesday

7:00AM-10:00PM

Thursday

7:00AM-10:00PM

Friday

7:00AM-6:00PM

Saturday

8:00AM-4:00PM

Sunday

Closed