Reasons Why To Have Your Car Serviced at Maplewood Toyota
Toyota dealerships are the only facility authorized to receive Toyota factory training. The training ensures that our service advisors and technicians as well as our parts staff know and keep your Toyota running at peak performance.
Our service managers, advisors and technicians are required to maintain stringent certifications and participate in continuous training from the University of Toyota
Today's vehicles are complex and require not only skill, but also highly specialized maintenance and repair tools. We maintain an up to date inventory of the most technologically advanced tools in the industry. Some specialized tools are exclusive only to Toyota dealerships and not available to independent repair shops.
We have a larger, cleaner and more comfortable facility than most independent shops. This allows us to provide you with fast-service turnaround and a more pleasant experience.
Our expertise results in improved efficiency that saves you time and money. We will perform your service faster and correct the first time. By virtually eliminating the "guesswork", you benefit from our skill and experience.
Your contact with our personnel, from the owner to the cashier is monitored by the manufacturer. Since our staff must uphold the highest standards of Toyota, you are guaranteed to have the service experience that Toyota demands.
Why take a risk of paying for a warranty repair? Many repairs that customers pay for at independent shops could have been covered by the manufacturer's warranty.
We use Original Equipment Manufacturer (OEM) parts. OEM parts are manufactured with exact craftsmanship using high quality materials. OEM parts include a 12-month / unlimited mile nationwide warranty. Independent shops use aftermarket parts that may be inferior in quality and craftsmanship.
We offer rental vehicles and free shuttle service that can make dropping off a vehicle more convenient.
Why go to the dealer for ALL services? Why not just go to the dealer for warranty services? Just like any other connection in life, maintaining good communication and consistent visits builds an excellent foundation for a solid relationship. You and your Toyota deserve the best.
Your service advisor wants to get to know you on a first name basis. He strives to learn what's important to you and how he can make your experience fast, convenient, and pleasurable.
Building a personal relationship with our staff is a great way to make sure things are done "your way." When you perform all services at our dealership, we will maintain a detailed history of all completed services and can advise you on future vehicle needs.
Just as it is easier, safer and faster to get all of your medications and health-care from the same pharmacy and doctor, servicing with only us will streamline the maintenance and repair process, saving you time and aggravation.
We maintain a service history log that can be printed out for you or you can view it online by yourself. Many people use their service history when selling their vehicles as an added value. Used car buyers pay more when good records are available.
When you perform regular maintenance at the dealership, our technicians will inspect your vehicle and warn you of any potential safety risks that you may not have even realized existed.
Only dealerships are provided with recall and campaign bulletins from Toyota. When you bring your vehicle to the dealer for minor service we will check with Toyota to see if there are any safety recalls or campaigns due on your vehicle. These services can only be properly performed at a Toyota dealership and often go undetected when the vehicle is serviced at an independent shop.
We offer a clean and comfortable customer lounge with a large screen TV, free Wi-Fi, free coffee and donuts and will wash your car for free every time you are in for service.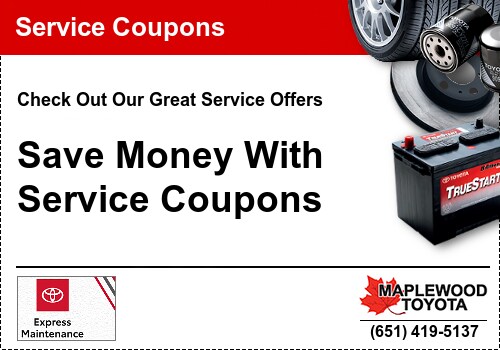 Service Hours
Monday

7:00AM-10:00PM

Tuesday

7:00AM-10:00PM

Wednesday

7:00AM-10:00PM

Thursday

7:00AM-10:00PM

Friday

7:00AM-6:00PM

Saturday

8:00AM-4:00PM

Sunday

Closed