Toyota Operations - United States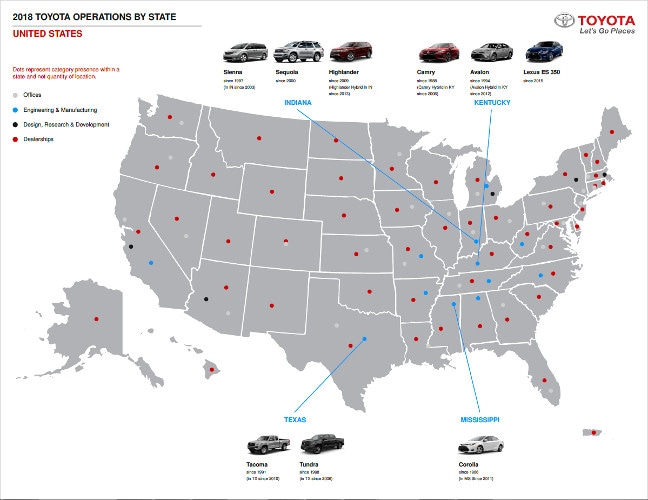 Toyota Motor Engineering & Manufacturing North America, Inc. (TEMA)
Location: Erlanger, Ky.
Established: 1996
Office site: 42 acres, 260,000 total square feet (including adjacent quality and production engineering laboratory - 358,400 sq. ft.)
Employment: 1,300
Operations: Provides centralized support to Toyota's North American manufacturing plants in several key areas such as: purchasing, production control, production engineering, quality control, environmental and administration.
Toyota Motor Manufacturing Alabama (TMMAL)
Groundbreaking: 2001
Plant Site: 200 acres
Plant Size: 780,000 square feet
Investment: $637 million
Employment: 1,000 (Projected by summer 2011)
Annual Production Capacity: 577,000 (Projected by summer 2011)
Products: V8 engines for Tundra pickup trucks and Sequoia SUVs, V6 engines for Tundra and Tacoma pickup trucks
Operations: Machining and engine assembly
Toyota Motor Manufacturing, Indiana, Inc.
Groundbreaking: May 1996
Plant site: 1,160 acres
Investment: $3.7 billion (as of 2009)
Employment: about 4,100
Annual Payroll: $285 million (CY2009)
Annual Production Capacity: 300,000 vehicles
Products: Sequoia, Sienna, Highlander
Operations: Stamping, body weld, paint, plastics and assembly
Toyota Motor Manufacturing, Kentucky, Inc.
Groundbreaking: May 1986
Plant Site: 1,300 acres
Investment: $5.3 billion
Employment: 6,800
Annual Payroll: $537 million
Annual Production Capacity: 500,000 vehicles & engines
Products: Camry, Camry Hybrid, Avalon, Venza, 4-cylinder and V6 engines
Operations: Die Manufacturing, Stamping, Body Weld, Paint, Plastics, Assembly & Powertrain
Toyota Motor Manufacturing Mississippi (TMMMS)
Start of Production: Fall 2011
Plant Site: 1,700 acres
Employment: 2,000 projected
Capacity: 150,000 annually
Product: Toyota Corolla
Operations: Vehicle production (stamping, body weld, paint and assembly)
Key Dates
Feb. 27, 2007: Original announcement. Toyota states it will build the Highlander SUV in Blue Springs, Mississippi; outside Tupelo.
Capacity: 150,000 units/yr
Start of production: 2010
Projected employment: 2,000
April 18, 2007: Groundbreaking
July 10, 2008: Production adjustment. Toyota moves the Highlander SUV to its Indiana plant in Princeton. Toyota names TMMMS as new home of the Prius.Dec. 15, 2008: Plant construction put on hold indefinitely due to market conditions.
June 17, 2010: TMMMS announces it will produce the Toyota Corolla in the Fall of 2011.
Toyota Motor Manufacturing, Texas, Inc. (TMMTX)
Groundbreaking: 2003
Plant Site: 2000 Acres (Facility: 2.2 million sq. ft.)
Investment: $1.4 billion
Employment: Over 2,800
Annual Production Capacity: 200,000 units
Products: Tundra and Tacoma pickup trucks
Operations: Stamping, welding, painting, plastics and assembly
Toyota Motor Manufacturing West Virginia
Groundbreaking: September 1996
Plant Site: 230 acres (Facility: 1.8 million square feet)
Investment: $1.2 billion
Employment: 1,050
Annual Production Capacity: 1 million engines and transmissions
Products: Four-cylinder & V6 engines and 6-speed transmissions
Operations: Machining & Assembly