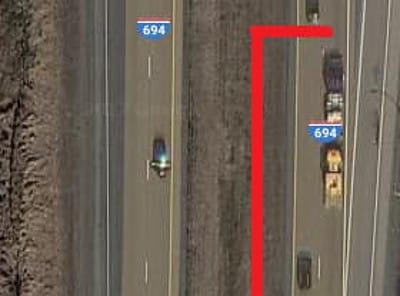 Alright Minneapolis, it's time to Take Action Against Distraction!
Distracted driving has become an epidemic in our country, and it is completely preventable. In 2018, distracted driving accounted for approximately 25% of motor vehicle crashes and over 58% in teen driver crashes. Every single driver on the road can personally take action to be less distracted while on the road. This is the first step in minimizing the effects of this rampant scourge of the roads.
The leading causes of distracted driving are:
Being lost in thought
Cell Phones
Adjusting radio/climate controls
Passengers
Dog in the car
Eating/reading/applying makeup
Passengers
The red line in this picture depicts the distance it takes to read the average text message. At 55 mph this is equivalent to driving with your eyes closed for the length of 5 football fields!
While you can't personally affect the actions of anyone but yourself, you can put yourself and your family in a vehicle with the most preventative safety features available – a new Toyota with Toyota Safety Sense.
The road can be unpredictable and that's why Toyota created Toyota Safety Sense. This safety system helps to protect drivers, passengers and pedestrians from harm. Toyota Safety Sense (TSS) is designed to support the driver's awareness, decision making and vehicle operation over a wide range of speeds under certain conditions. Packaged together in an integrated system, TSS features help address three key areas of accident protection: mitigating or preventing frontal collisions, helping to keep drivers within their lane, and enhancing road safety during nighttime driving. Always drive safely, obey traffic speed limits and laws, and focus on the road while driving.
Toyota Safety Sense includes:
Pre-Collision System with Pedestrian Detection - This integrated camera and radar system is designed to help reduce the likelihood of colliding with a preceding car or pedestrian. It judges if a crash is imminent and will alert the driver, and if no brake input is detected will apply the brakes of the vehicle.
Lane Departure Alert - A camera on your windshield may help you avoid the consequences of unintended lane departure by alerting you when it senses that you've veered from your lane.
Automatic High Beams - A camera on your windshield aids nighttime driving by using a camera to detect headlights and taillights of preceding vehicles, and toggles accordingly between high and low beams.
Dynamic Radar Cruise Control - This high-tech cruise control uses radar behind the Toyota badge plus a camera on the windshield designed to adjust your speed, helping you maintain a preset distance from the car in front of you.
Road Sign Assist - Using a forward-facing intelligent camera, Road Sign Assist is designed to detect speed limit signs, stop signs, do not enter signs and yield signs, and display them on the dash.
Lane Tracing Assist - When Full-Speed Range Dynamic Radar Cruise Control is enabled and lane markers are visible, Lane Tracing Assist uses the lines on the road and preceding vehicles to help keep the vehicle centered and in its lane.
If you want to contact your State Legislator regarding legislation to reduce distracted driving crashes, you can find out who your legislator is here: https://www.gis.leg.mn/iMaps/districts/