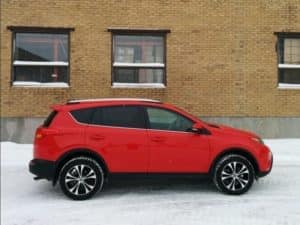 The calendar may say it's fall, but everyone in Minneapolis, Minnesota knows winter is right around the corner, peeking it's cold blustery head around the corner. So the question begs, "Are you ready?" An even better question, "Is your car ready?" Regardless if you own an
Toyota Rav4 AWD
, or a front-wheel drive Toyota Camry, there are several things to be checked before the weather turns.
Check Tires
Pay attention to your tires while you are driving looking for:
Constant "howling" noise
Vibration – especially at 50+ mph
Uneven wear – turn your wheel and see if either side or the middle are worn – do the coin test
Coin test – use an upside down quarter in every tread of your tires, if you see the top of George's head it's time to think about possibly planning for new tires – if you use a penny and see the top of Abe's head, time for planning is past – replace them immediately.
Check Brakes
Pay attention to your brakes while you are driving looking for:
Vibration upon application, especially at speed
High pitch squeal with every brake application
Any recurring noise or vibration upon application or release of the brake pedal
Long travel of the brake pedal before you feel resistance
Any of these are signs it is time to at a minimum, have the tires or brakes inspected by a certified trusted mechanic. Don't wait for Winter to hit. Call us or Schedule a Maplewood Toyota Service Appointment today.